Winter is upon us – or what passes for winter in leaf-strewn Surrey as the world warms. So far all we've had is gusty wind and prolonged dollops of rain – but nowhere near as much as further north. And how lucky we are – I witnessed the effects of flood on homes in Cockermouth a year or two back, and they are horrible – your house doesn't just get wet, it gets ruined. Raw sewage soaks into the carpets and the furniture, and above all into the walls – and that's the lasting, merciless effect, which takes months or years to deal with.
So to start this entry I thought I'd include a cheering image or two of country landscapes, as painted by Anna Teasdale – an old friend who passed away a few weeks ago, in my view one of the great unsung talents of British landscape painting. At the end of the blog there are links to where you can find originals and prints of her lovely work.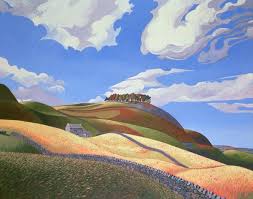 Given my vintage – from a time when footballers weren't allowed to earn more than twenty quid a week, no, really – there's no wonder this blog sometimes nods to the passing of friends and heroes, since over the decades I've gathered so many of both. But I rejoice in knowing younger folk read this, so let's move swiftly to matters theatrical around London. I've linked up with a new troupe of creative students recently arrived from over the Pond, and have started exploring the current scene.
There's just so much of it, all one can do is pick a few dumplings from the stew and hope they're tasty. So far we've seen only three: "Cyrano" at the Playhouse, "The Welkin" at the National – both strong pieces of work, with striking lead performances by James McAvoy and Maxine Peake respectively – and then last week, "Pass Over" at the Kiln, Kilburn. And well, as a famous Greek thinker once announced from his bathtub, Eureka!
"Pass Over" isn't a new play – its author Antoinette Nwandu first created it with the famous Chicago-based Steppenwolf company in 2018, and went on to do a film version with Spike Lee. The premise sounds bizarre – "Exodus" crossed with "Waiting for Godot" – but if you're in London, make the effort – go and see it. I came away reckoning it could rank as historic an event as the arrival in London of "Godot" itself in 1955 at the Arts Theatre via a young director called Peter Hall. There's undeniably outstanding work in Kilburn from the cast, director Indhu Rubasingham and her creative and tech teams.
However having now discussed it with a group of thoughtful American students, several of whom had never seen or read "Waiting for Godot" – I realised that my reactions were those of a white European theatre addict – very different, for instance from those of a young black American woman experiencing a live theatre play production for only the third time in her life (and the other two were the London shows mentioned above).
It's writing which stays with you, and like Beckett's original – OK, leaves you pondering Big Questions about Life, but in fact its setting is very precise, and poses queries for here and now – specifically in the context of the on-going arbitrary killing of black people on the streets of American cities. The Black Lives Matter movement is still raw and urgent, as the hopes and aspirations of Obama's presidency fade into history. Since these are very real, very immediate issues for those living in Trump's America, how useful is a play in a theatre?
If you can, please go and see it – it provokes much talk and many thoughts. For instance one of our group found out that in the Steppenwolf version the Valdimir and Estragon equivalent characters are teenagers – whereas in London the two brilliant actors (Paapa Essiedu and Gershwyn Eustace Jnr) play at their own 30-something age. Is this a significant choice?
It may be set firmly in America, but you leave the theatre reflecting on its resonance for our country, not least the steady surge of knife crime on London streets. Meanwhile a man in a beanie hat skulks Downing St, trying to sneak racist weirdos through the back door. It's an image as strange and disturbing as any dreamed up by Sam Beckett.
And talking of weird images, here's one that almost made me fall off my sofa whilst watching television last Friday night.
Why so? Well it's a clip shown in a BBC4 documentary fronted by Billy Bragg about the way Lonnie Donegan's hit record of a song called "Rock Island Line" hugely influenced the flowering of British rock'n'roll – the emergence of groups like the Rolling Stones and the Beatles – in the early sixties. Those of you who weren't around then may recognise the name, as Lonnie Donegan is featured in the recent Oscar-winning Renee Zellweger movie "Judy". The guitarist with his back to the camera in this picture is Lonnie, and the cove with the double-bass is me.
The clip was filmed in Manchester, at the Granada TV studios. In the BBC documentary there are two tiny excerpts, just a few seconds long.
The story behind this is that during the 1964 General Election Johnny Hamp – a famous Granada producer, who gave the Beatles their first TV break – had decided to feature on his nightly "Scene at Six Thirty" show acts who had been top of what was then called The Hit Parade during other recent elections. "Rock Island Line' had been top two elections previously, and Lonnie happened to be on tour in Manchester that week in '64. He didn't have a band at that time so Hamp requested the casting department to supply a couple of "comedy actors" to mime to the record on washboard and tea-chest double bass, two homely instruments much used in "skiffle" music – Lonnie was known as the King of Skiffle.
As a student at the Manchester University drama department with an Equity card, I was that week doing some extra-work on "Coronation St" – so Carolyn Bartlett in the casting office sent me along. The fee bought my first car – a blue Ford Popular, bought off my schoolmate Dave Welpton for £40 – pretty dashing, eh? Did wonders for my image. It had a sign on the back saying "Disabled Driver No Hand Signals".
If you're in the UK you can catch Billy Bragg's doc on iPlayer until March 21st, the link is below. Apart from my two fleeting appearances, it's well worth checking out if you're interested in the Golden Age of British Rock'n'Roll. For example, apparently early skiffle sessions with Donegan and the Chris Barber Band took place in the upper room of the Round House pub on Wardour St, where a teenage Mick Jagger used to go and watch, and in the doc Billy chats with survivors from John Lennon's pre-Beatles skifflers, the Quarrymen.
Anyway, I had no idea that my microscopic contribution to rock history still existed, and there it was lingering in a dusty archive. Like Tutankhamun.
We're just off to see Conor McPherson's new version of "Uncle Vanya" at the Harold Pinter Theatre. Stay tuned.
Anna Teasdale obituary:https://blogs.bl.uk/sound-and-vision/2020/01/anna-teasdale.html
Original paintings available at: http://www.gallerylefortfineart.com/artist.php?i=37
Prints: https://www.myartprints.co.uk/a/teasdale.html?sfl=1&INCLUDE=LIST
ROCK ISLAND LINE: https://www.bbc.co.uk/programmes/m000433l
KILN THEATRE: https://kilntheatre.com/whats-on/pass-over/